Questa pagina in Italiano

Diese seite auf Deutsch
My name is Marina, I am Neapolitan "D.O.C.". My great grandfather was an actor of the popular theatre in 1898. He played the role of Punchinello, the mask character of Naples, a tragic and, at the same time, good humoured mask which fascinated some foreign philosophers and writers. Therefore the irony is the "salt" of my life.
My grand father had a cabinet-maker's shop of inlaid furniture in Sorrento, in the 1940, and restored the furniture exposed in the Museum of the town, that is the destination for most of the International tourists in Campania. This familiar artistic background induces me to love Naples and its old history, populated by the Greeks, the Romans,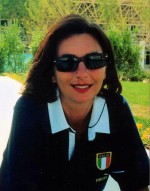 the Sweabians, the Angevins and the Aragonese and again the Bourbons. That is why, when I search, with inquisitive eyes, each hidden corners of the streets, I think I am still living hundreds, thousands and more lives.
I am graduated in Foreign Languages and Literature. I wrote, at the end of the course, a thesis on the popular journalism in England, with, as main purpose, the analysis of a popular English newspaper, "the Daily Mirror". I love good literature and I enjoy myself on writing short tales to give "part of me" to my sons, Gianluca and Riccardo Maria, two dark eyed and Mediterranean boys. I hope they will read me.
The knowledge of foreign languages has helped me, as soon as I have got the degree, on getting job as sales manager in a jewellery, located at Ischia, one of the pearls of the Naples gulf. I am therefore unrolled in the special list as official estimator of jewels, precious stones and watches,and interpreter of the Chamber of Commerce with the number 1009. I attended a specialize school in Rome "I.G.I. - Istituto Gemmologico Italiano" to examine closely the word of the Crystallography and the Precious stones, getting the diploma. Later I specialized on designing jewels for E.S.L.E. and other jewellery shops at Ischia.
The need to communicate brings me to offer my own experiences and knowledge to the tourists interested in the positive image of Naples, giving besides good advices for shopping.
[Services] - [Tours] - [FAQ] - [Contact Me]